Samuel Chase is one of the better-known signers of the Declaration of Independence. Yet, it is not his signature on that document that secured his historical fame. It was a controversy that came later, once he was a member of the US Supreme Court.
Samuel was an only child, an unusual thing to be at that time, born in April of 1741 to the Reverend Thomas Chase and Matilda Walker. He was born in Princess Anne County, Maryland. His father, Thomas Chase, immigrated to Somerset County, Maryland, to be the leader of a new church. Samuel was homeschooled and left to study law in Annapolis when he was eighteen years old. Instead of going to a university, Samuel studied the law under an attorney named John Hall.
Samuel took the bar exam and was admitted to the bar as a lawyer in Maryland in 1761 and started his own law practice in Annapolis. His colleagues at the bar in Maryland bestowed a unique nickname upon him during his law career–Old Bacon Face.
In May 1762, Samuel married Ann Baldwin, a daughter of Thomas and Agnes Baldwin. The couple had three sons and four daughters together, seven children in total, of whom four survived past childhood. Anne died in 1776. After losing his wife, Samuel was single for a while, then went to England in 1784 to attend to business for Maryland in regards to its Bank of England stock. While in England, Samuel met Hannah Kilty, the widowed daughter of a doctor in Berkshire named Samuel Giles. Samuel and Hannah married later the same year Samuel arrived in England, and he and his new wife had two daughters together, named Hannah and Elisa.
In keeping with his unconventional life and lifestyle, Samuel was kicked out of the Forensic Club before going to England. This was a debating club in Annapolis, and Samuel was kicked out of it for his supposedly "extremely irregular and indecent" behavior. Yet, after going to England, becoming remarried, and returning home with his new family, he began a promising political career, being elected to the Maryland General Assembly in 1764. Samuel served on this governing assembly for two decades.
The prosperous and stable career in politics he made for himself did not absolve Samuel of all public controversy. In fact, just two years after being elected to the Assembly, he became engaged in a public war of words with several members of the Maryland political elite. This war began when Samuel took issue with an article that was published in a local Maryland newspaper that accused him of being, "a busy, reckless incendiary, a ringleader of mobs, a foul-mouthed and inflaming son of discord and faction, a common disturber of the public tranquility." Most people would be offended by being called these things, and Samuel was no exception. He accused the writers of the article, whose identities were known to him, of "vanity, pride, and arrogance," and of being in political power only by "proprietary influence, court favor, and the wealth and influence of the tools and favorites who infest this city."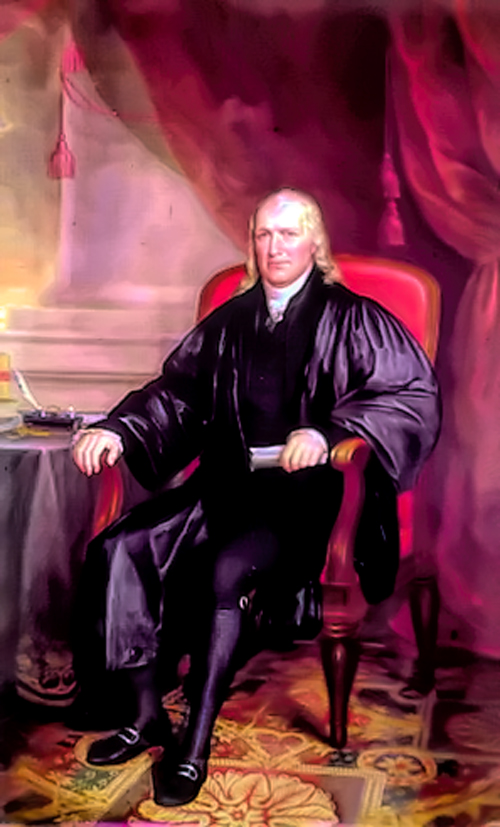 As the mood of the colonies turned more toward being revolutionary, Samuel co-founded the Ann Arundel County Sons of Liberty chapter with his good friend, William Paca. Samuel was also instrumental in leading the Maryland opposition to the British Stamp Act. While doing all of these things, he began construction on a mansion that he later sold before it was finished. The house was called the Chase-Lloyd House by later generations and is now on the list of National Historic Landmarks in the USA.
In 1774, Samuel was appointed as a representative from Maryland to the Continental Congress in Philadelphia. He served there until 1778 and signed the Declaration of Independence while he was there. Samuel was not asked back to the Congress after it was discovered that he was trying to corner the flour market using inside information he gained by being in the Congress. This expulsion damaged his national reputation, but particularly in his home colony of Maryland.
The damage to his reputation did not take away from what many saw as his political prowess and talent for the law. He moved his family to Baltimore, where he lived for the rest of his life and was appointed as Chief Justice of the District Criminal Court in Baltimore in 1786. He served in that position until 1796. Concurrently, he became Chief Justice of the Maryland General Court, and served there until 1796, as well. That was the year that US President George Washington appointed Samuel to the US Supreme Court as an associate justice, a position that he served in for the rest of his life.
This is where Samuel Chase becomes perhaps best known to history. When Thomas Jefferson was US President, there was a lot of debate and controversy going on regarding the exact type of power the federal courts should exercise. Because Samuel had acted more as a prosecutor than as a judge in some of the cases brought before him, Jefferson decided to make an example of his old Continental Congress colleague and began the impeachment process against him. The House of Representatives served him with eight articles of impeachment and voted to proceed with impeaching him by a 73 to 32 vote. The impeachment trial began shortly thereafter in the US Senate, which was controlled by Jefferson's own Democratic-Republican political party.
The Senate voted to acquit Samuel of all of the impeachment articles. There were thirty-four senators present for the trial, and twenty-three votes in favor of removal from the bench would be needed to take Samuel off the Supreme Court. Of all eight votes taken (one for each impeachment article), the closest to twenty-three any vote came was eighteen. Samuel kept his position on the US Supreme Court but is known to history as the only US Supreme Court justice to be impeached, thus far.
The impeachment trial itself was important in that it established the fact that US Supreme Court justices should be prohibited from engaging in partisan politics. It also defined the role of a US judge in a criminal jury trial and clarified the issue of judicial independence.
Samuel was a US Supreme Court justice for the rest of his life. He died in 1811 and was buried in what is now Old Saint Paul's Cemetery in Baltimore.