I had no idea that Charles Schulz was first published in Ripley's Believe It or Not until my family visited the museum named for him in Santa Rosa, CA. I was a big Ripley fan as a child and can recall the actual drawing from one of my books. The Peanuts comic strip was published on October 2, 1950.
Charles M. Schulz, an American icon and award-winning cartoonist for over 50 years, was born in Minneapolis, MN, in 1922. His surname, Schulz, is of Old High German origin; his father's parents, Carl Ludwig Schulz and Emma Alvine Auguste emigrated from Germany in 1897. His maternal grandparents, Torgus Halverson, and Anne Sophie Borgen were born in Norway and met and married in Wisconsin in 1885. Although Schulz's parents had third-grade educations, his father managed to earn a license to barber and support the family with his own shop. Coincidentally, Schulz married Joyce Halverson, who had the same maiden name as his mother Dena, though no relation.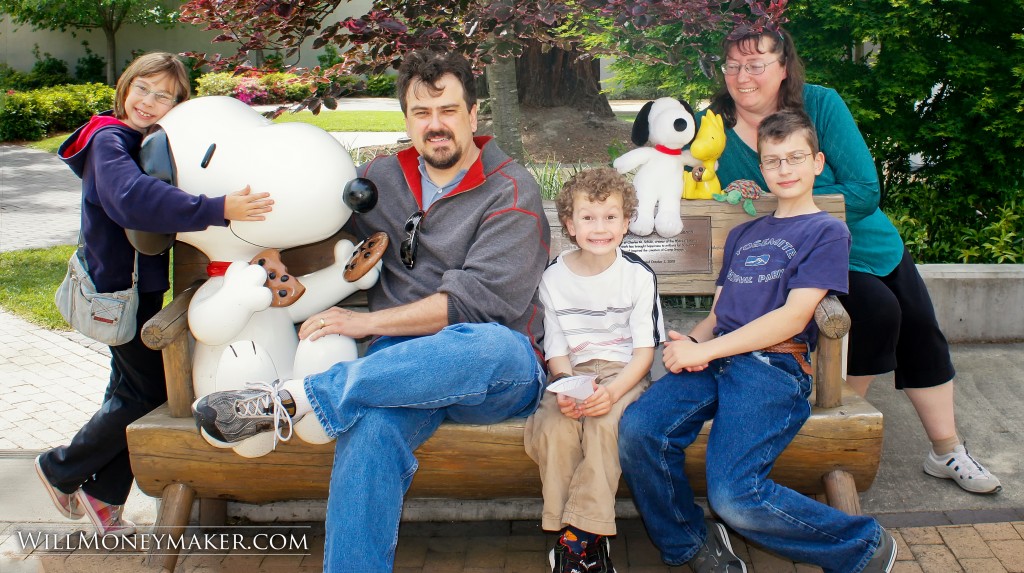 While Schulz did not inherit his artistic talent from his family, they did encourage, influence, and inspire his creativity. An uncle nicknamed him Sparky when Schulz was two days old – a reference to Spark Plug, a character in the comic strip Barney Google created by Billy DeBeck. Schulz and his father loved to read the Sunday funnies together; he was particularly fond of Mickey Mouse and Popeye and began to draw at an early age.
As a teenager, Schulz's illustration of his dog, Spike, was published by Ripley with the caption, "A hunting dog that eats pins, tacks, and razor blades is owned by C. F. Schulz, St. Paul, Minn. Drawn by 'Sparky'." The initials C. F. stand for his father's name, Carl Fred. The publication was the stimulus for Schulz enrolling in and successfully completing a correspondence course with the Federal School of Applied Cartooning.
After the death of his mother and a stint in the army during WWII, Schulz moved in with his father in the apartment over his barbershop and resumed his passion for illustration. He returned to his alma mater, now renamed the Art Instruction Schools, and was employed there as an instructor of illustration. His first successful comic strip, Li'l Folks, appeared in a local paper, the "St. Paul Pioneer Press", for three years. About a year later, the first Peanuts panel was published on October 2, 1950.
The Peanuts comic strip started as a one-panel cartoon, eventually extending to the standard four-panel format it retained until its final publication. The strip became so popular that Schulz had no time for other cartoons. Dedicated fans will never forget when Coca-Cola commissioned Schulz to make a Peanuts Christmas animated special. Millions (myself included!) have watched it every year since 1965 – and today my children watch it as well. It just isn't Christmas without the sad little tree, the dancers at play rehearsal, and the ice skaters on the frozen pond. Linus' recitation of a passage from the Bible still raises eyebrows and keeps the show controversial.
The Peanuts comic strip ran in syndication for 50 years and reflected much of Schulz's real life.
Schulz was compelled to share some insight about his craft in a 1997 interview with Charlie Rose. He reveals that his comics allowed him to express himself, as he often felt withdrawn and shy. He said, "I suppose there's a melancholy feeling in a lot of cartoonists, because cartooning, like all other humor, comes from bad things happening."


Charlie Brown's unrequited love for the Little Red-Haired Girl was inspired by a real-life rejection of Schulz's marriage proposal to a co-worker at Art Instruction, Inc., Donna Mae Johnson.


Patricia Swanson, a maternal cousin with whom Schulz associated peppermint candies, inspired the Peppermint Patty character.


Spike, Snoopy's brother, is named after Schulz's childhood pet. The character lives in Needles, California, where the Schulz family lived for a brief time to care for an ailing relative.


Schulz's same childhood pet (a pointer, not a beagle) bears a strong resemblance to Snoopy. The real-life Spike was also reported to be an intelligent hound capable of Snoopy-like antics.


The strip focuses on the children of the neighborhood and school children, but Charlie Brown's parents, like Schulz's, are a barber and a homemaker.



Linus Maurer and Sherman Plepler were good friends of Schulz and served as the namesakes for Charlie Brown's good friends, Linus, and Shermy.
Charles M. Schulz passed away on February 12, 2000; true to his word, the Peanuts strip outlived him. The last original strip was published the day after his death and lives on in books and animated specials for almost every holiday celebrated in the U.S.

Schulz came from a long line of Schulz's and Halverson's. Pursue your family's ancestry and shed some light on your own past. You never know what famous person is waiting to be discovered on your family tree!